The Ultimate Duke Ellington Event is Finally Here…
Save The Date! 
The 24th International  Duke Ellington 
Study Group Conference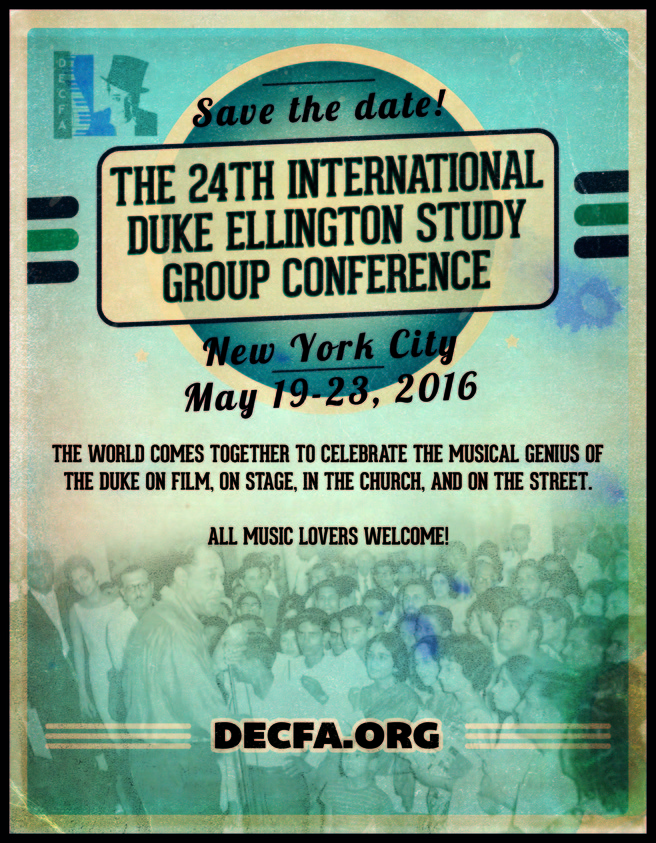 It's an International Jazz Celebration!
The Duke Ellington Center for the Arts (DECFA)
Proudly Announces
DUKE ELLINGTON IN PERFORMANCE:
ON THE STAGE— ON THE SCREEN—IN THE CHURCH—IN THE CLUB
The 24

th

International Duke Ellington Study Group Conference
New York City – May 19-23, 2016
Join music lovers, musicians and leading scholars from around the world for a series of panels at St. Peter's Church and events across New York City designed to celebrate, preserve and expand the legacy of Duke Ellington. Highlights of the Conference will include:
Opening Night Gala Reception where you'll meet jazz devotees from around the world and Ellington family members
Panels led by eminent scholars and artists covering such topics as
Playing Ellington: The Creative Challenge >
Where's Billy: A Marriage Made in Music
>
(If) A Drum is a Woman: Gender and Sensuality in Duke's Music
>
Duke Who? Wynton Marsalis and Jazz at Lincoln Center's Essentially Ellington Project
>
Growing up Ellington: Keeping the Legacy Alive
>
Film Fancies and Fantasies: From Shorts
and
Cabin in the Sky
to
Anatomy of a Murder
>
Exploring
Jump for Joy/Queenie Pie/The Beggar's Opera
and more!
Historic reunion of producers and performers from Broadway productions that featured the Duke's  music, such as
After Midnight, Play On!,
and the Tony Award-winning
Sophisticated Ladies
Performances by world renowned artists and Broadway celebrities at venues ranging from Moscow 57, an intimate downtown supper club, to the world famous Birdland Jazz Club.* We will also have multiple performances at St. Peter's, "The Jazz Church"
Guided bus tours and excursions to Jazz at Lincoln Center, the Cotton Club, The Apollo Theater, the Ellington Statue, Duke Ellington Boulevard, plus Harlem speakeasies and nightclubs frequented by the Duke
Screenings of rare footage from documentaries, performances and family archives
Beyond Category Awards Luncheon (honorees to be announced by the Duke Ellington Center for the Arts Board of Directors in December)
Special rates for groups of 10 or more, contact kikeldin@gmail.com for more information.
For complete Conference Information, visit our website at www.DECFA.org
LIMITED SEATS AVAILABLE. HURRY AND REGISTER
Leave a Comment Below and Tell us What You Think...